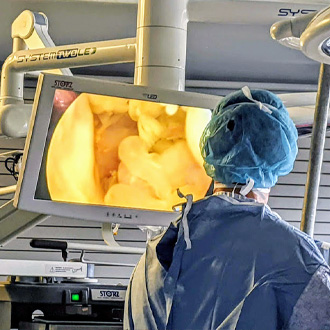 Running 'S' Equine provides safe and superlative surgical care. We possess the expertise, experience and equipment necessary to successfully perform a wide variety of surgical procedures. Anesthesia monitoring during surgery is continuous with the most up-to-date equipment available, including laboratory support. Arthroscopic surgery, depression skull fractures, surgery of the sinuses and upper airway (including laryngoplasty/sacculectomy for roarers), internal fixation of fractures, and surgery for conditions of the foot and hoof wall are areas of particular interest. Dr. Staller is experienced with performing countless surgeries utilizing the safest method possible.
Dr. Staller is very experienced in minimally-invasive surgery of joints, bursa and tendon sheathes (arthroscopy, bursoscopy and tenoscopy) and maintains a modern complement of instrumentation to aid in performing surgeries of this kind. In addition, laparoscopy, for minimally invasive surgery of abdominal and reproductive condition is also a particular interest.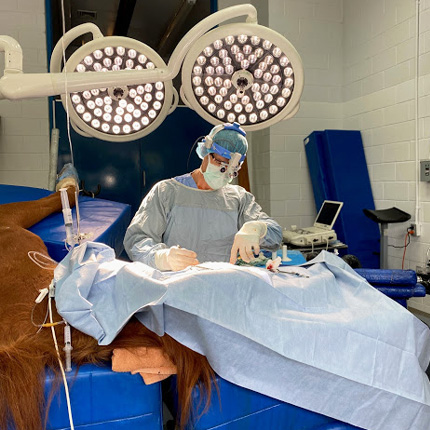 24/7 Emergency surgeries include:
Emergency Cesarean Sections
Emergency Colic Surgery
Laceration Repair
Management of Open Joint Injuries
Tendon and Tendon Sheath Injuries
Fracture Management and Repair
Foreign Body Extraction
Ophthalmic Emergencies
Routine procedures include:
Arthroscopic and Tenoscopic Surgery
Laparoscopy
Laser surgery
Upper Airway and Sinus Surgery
Urogenital surgery
Ophthalmic surgery
Castrations by scrotal ablation
Desmotomies & tenotomies
Cosmetic surgery
Interspinous ligament desmotomy, and osteotomies for "kissing spines" - View Video Here >>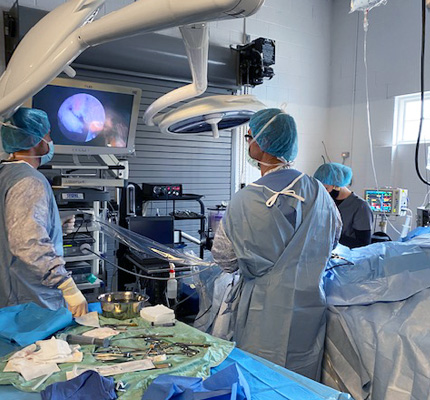 We offer Needleview(TM) Arthroscopy!
With NeedleView(TM) technology, the arthroscope is the size of a 19 gauge needle, bringing a whole new meaning to the term, "minimally invasive surgery!" Exploratory arthroscopy of the stifles can be performed in the standing horse to diagnose meniscus tears, cartilage injury and osteochondrosis.
The need for further treatments and surgeries can be assessed rapidly, safely and without anesthesia in about one hour! The NeedleView(TM) arthroscope is also used for exploration of the navicular bursa and coffin joint as well as the fetlock joint in standing horses.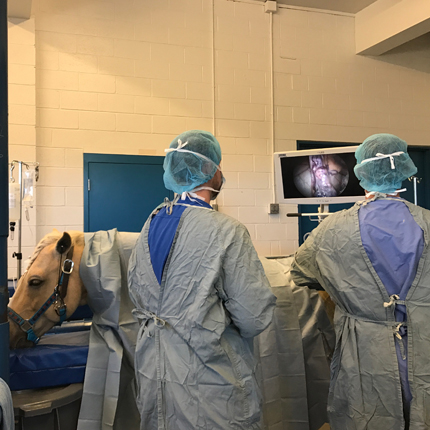 Stem Cell Therapy
We offer mesenchymal stem cell therapy for soft tissue injuries such as tendonitis and ligament injuries as well as for joint conditions such as cartilage damage, osteoarthritis and intra-articular fractures. Fat-derived and bone marrow-derived stem cell therapies, from the horse's own cells are commonly performed. Allogenic dental pulp stem cell therapy is also used and is showing great promise.
Laser Surgery
We offer laser surgical treatment of the upper airway such as vocalcordectomy and guttural pouch drainage. Upper airway bleeding is treated with the laser and the laser is used for neurectomy to prevent neuroma formation.
In-house laboratory support services include:
Complete Blood Counts (CBC)
Full Serum Chemistry Analysis including electrolytes
Serum Amyloid A and Fibrinogen measurement – to aid in the diagnosis of bacterial infections
Arterial Venous blood gas measurements
Cytological Analysis of joint and bursa fluids
Analysis of abdominal and thoracic fluid
Analysis of transtracheal and bronchoalveolar lavage samples
Basic microbiologic culture and antimicrobial biological sensitivity testing
Anesthesia Protocol
The most modern anesthesia abnormalities and monitoring protocols are utilized At Running 'S' Equine. We made this video to highlight the experience, care and attention to detail that correlates with safe, and successful performance of anesthesia.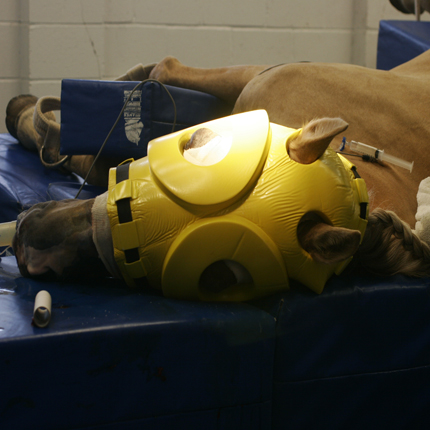 Pain Management
We are very attentive to pain management. Most require careful administration in order to avoid dangerous side-affects. Most often horses are treated with anti-inflammatory medication to treat pain, which might not address the problem adequately. We are very experienced with medication protocols such as lidocaine continuous rate infusions, epidural catheters, and performing procedures to minimize post-surgical and post-procedural pain.
Post-Operative Care
Our equine patients are closely monitored after surgery to be sure they return to normal function and comfort after sedation or general anesthesia. Sedative and anesthetic drugs slow the intestines and careful observation, in the post-operative period, for the return of normal gastrointestinal motility and function, is critical to stage the patient's return to normal feeding. In addition, careful attention is paid to post-operative comfort and pain management as well as care of the operative site.