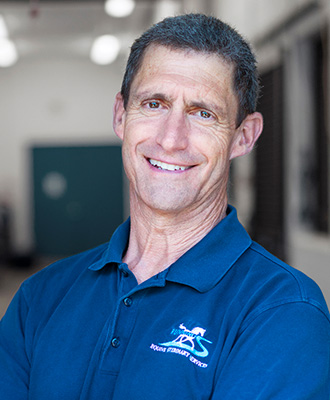 Greg Staller
| DVM, DACVS
Owner and President of Running 'S' Equine Veterinary Services, Dr. Gregory S. Staller, is passionate about providing the best veterinary care to his patients. He is a dedicated surgeon and veterinarian, whose professional interests range from equine orthopedic and general surgery, sports medicine, diagnostic imaging, ophthalmology and internal medicine. Dr. Staller founded Running 'S' Equine Veterinary Services in 1995 and has been providing compassionate and advanced veterinary medical services ever since.
Dr. Staller grew up in the San Joaquin Valley of California, and was raised around animals on his family's ranches. His father, a life-long rancher, influenced Dr. Staller's interest in working with animals. When it came to deciding on a career path, Dr. Staller realized veterinary medicine was a blend of his favorite interests; animals, agriculture, medicine, and science. He chose to specialize in equine veterinary medicine because of his love of horses and horse sport, as well as the unique opportunity to practice the full range of medicine and surgery on a large animal species.
Dr. Staller attended the University of California, Davis for his undergraduate education, graduating in 1983 with a degree in Biochemistry and a minor in Modern European History. He graduated as a Doctor of Veterinary Medicine from the University of California in 1987. - He then completed a rotating Internship in Large Animal Medicine and Surgery at the University of Pennsylvania's New Bolton Center and followed this with a Residency in Large Animal Surgery, also at New Bolton Center, finishing in 1991.
Dr. Staller became a Diplomate of the American College of Veterinary Surgeons in 1995. He is a member of the American Veterinary Medical Association, the American Association of Equine Practitioners, the International Society of Equine Locomotor Pathology, and the New Jersey Association of Equine Practitioners. He also is a member of and serves on the Board of Directors for the Northeastern Association of Equine Practitioners. Dr. Staller has served as an FEI veterinarian in the disciplines of Dressage, Eventing and Driving.
Outside of work, Dr. Staller loves spending time with his family and animals. His wife, Catherine, is an accomplished International-level Dressage rider and trainer and Sport Horse breeder by profession. Dr. Staller loves to listen to and play music, and regularly practices the blues harmonica and rock and folk guitar. Dr. Staller loves to stay in shape, and works out several times per week practicing functional fitness activities and yoga. Other interests include dog training, reading, world history, traveling, fly-fishing, pondering philosophy, reading biographies, working on the farm and vegetable gardening.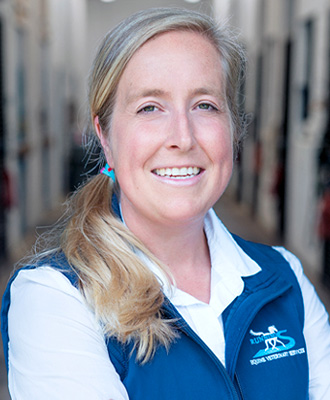 Nicole Jochec
| DVM, CVA
Dr. Nicole Jochec has been a valuable member of the Running 'S' Equine Team each day since she joined our staff in January of 2014. She completed her internship year with the practice and then joined as an associate . What Dr. Jochec finds to be the most satisfying aspect of being a veterinarian is the opportunity to form and cultivate relationships, not only with the horses and ponies we treat, but also with our patients' owners, our wonderful clients, riders, and technicians. She considers being an Equine Veterinarian as a lifestyle choice, and not just as a profession. Dr. Jochec likes to consider the whole approach, including both veterinary medicine and athletic performance.
Dr. Jochec is a native of Bergen County, New Jersey. She grew up loving horses and competed across the east coast which eventually motivated her to become an Equine Veterinarian. Dr. Jochec rode and trained horses professionally prior to going to veterinary school. She developed a love for rehabilitation, sports medicine, and developing equine athletics through a multifaceted approach.
"I grew up riding and spent my junior years showing in the equitation and jumpers on the east coast circuit," Dr. Jochec remembers. "After I graduated college, I ran a boarding, training, and sales facility specializing in hunters, jumpers, and equitation."
Dr. Jochec graduated from the University of Vermont in 2001 with a degree in English and Psychology. After going back to school, graduated from Ross University School of Veterinary Medicine in 2013, and spent her clinical year at Cornell University School of Veterinary Medicine. Dr. Jochec is certified in Veterinary Acupuncture and Traditional Chinese Veterinary Medicine. She is a member of the American Association of Equine Practitioners, the American Veterinary Medical Association, the International Society of Equine Locomotor Pathology, and the New Jersey Association of Equine Practitioners.
Dr. Jochec's hobbies include horseback riding, alpine skiing, standup paddle boarding, and hiking with her Australian Shepherd dog, Tudi. In her spare time, Dr. Jochec can also be found listening to music, attending live performances or spending time outdoors with her husband David and their two sons.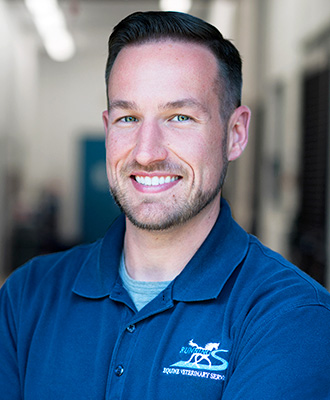 Travis Bowers
| DVM
Internal medicine, Reproduction, and General Wellness are among some of Dr. Travis Bowers many professional interests. Since joining our team after graduation from Kansas State School of Veterinary Medicine as in Intern in June of 2015, Dr. Bowers has been hard at work honing his skills and tending to the horses in the practice.
"Being a Veterinarian provides a challenge of something new almost every day," Dr. Bowers states. "I thoroughly enjoy seeing a good outcome to a challenging case or learning from a not so good outcome. There is constant opportunity for more learning in the profession of veterinary medicine here."
Dr. Bowers grew up in Greencastle, Pennsylvania where he began riding horses at the age of 7. By the age of 12, he had purchased his first horse who unfortunately had bad musculoskeletal issues that lead to many veterinary appointments. Amidst all the work-ups, Dr. Bowers became fascinated and intrigued with the practice of veterinary medicine.
At University of Findlay, Dr. Bowers studied Pre-Veterinary Medicine and Biology, graduating in 2010. As a practicing veterinarian, Dr. Bowers is a member of the American Association of Equine Practitioners, the American Veterinary Medical Association, and the New Jersey Association of Equine Practitioners, for which he currently serves as Secretary.
Dr. Bowers rises before dawn for a morning workout, and loves staying active in his spare time. He also enjoys playing volleyball and going out for nice meals with coworkers and friends. At home Dr. Bowers owns an English Mastiff named Maddie, and a Boerboel Mastiff named Bailey.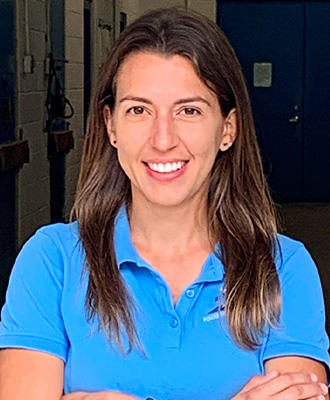 Derin Macchia
| DVM
Dr. Derin Macchia is a full-time ambulatory associate veterinarian here at Running 'S' Equine Veterinary Services. Derin grew up on Long Island, NY where she began taking riding lessons at 8 years old at summer camp and the rest is history.
Derin graduated from Cornell University with a B.S. in Animal Science where she participated in "foal watch" with the vet school which sparked her interest in theriogenology. She then went on to complete her veterinary degree at Ross University in St. Kitts where she participated in research involving feral donkey reproduction. While in the Caribbean, she fell in love with the culture and the beach and learned to scuba dive. For her final clinic year, she attended North Carolina State University College of Veterinary Medicine. She then did a year-long equine rotating internship at South Shore Equine Clinic in Plympton, MA where she received training in ambulatory and emergency medicine.
Derin's professional interests include emergency medicine, dentistry, and internal medicine. Outside of work, she enjoys riding her Thoroughbred mare, Emma, hiking, traveling, and checking out local cider mills.