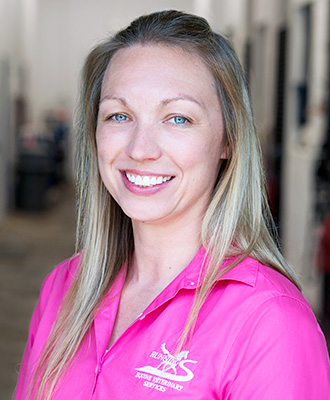 Amy Gregonis
| Practice Manager
Our Practice Manager, Amy keeps Running 'S' Equine running smoothly. Amy manages the practice's human resources functions including recruiting and training staff, payroll, benefits administration and much more. Amy also is in charge of financial and fiscal duties of the practice of the hospital, and heads up our marketing and public relations efforts.
Amy is a Jack-Of-All-Trades. She possesses a master's degree in Business Administration with a concentration in Finance. Amy is a highly motivated individual who continually encourages our staff to meet Running 'S' Equine Veterinary Services's mission statement every day.
"I enjoy working in a small team atmosphere, where every employee supports and assists with accomplishing the short term and long-term goals of the practice," Amy says. "Watching the Veterinarians and Technicians give the highest quality of care to the patients is truly one of the reasons I love my job on a daily basis. Working with each and every employee, that truly has the patient's wellbeing first and foremost, it's amazing to be a part of that team. We also have a beautiful state of the art facility."
Amy is a member of the United States Equestrian Federation and the United States Hunter/Jumper Association. On the weekends, Amy can be found local Hunter/Jumper shows as a starter. When she isn't working, Amy enjoy taking walks and hikes with her dog, a Shepherd mix named Riley. She also loves to practice landscaping and gardening projects, playing tennis, and riding her Peloton. Amy is an avid fan of her favorite football team, the New England Patriots.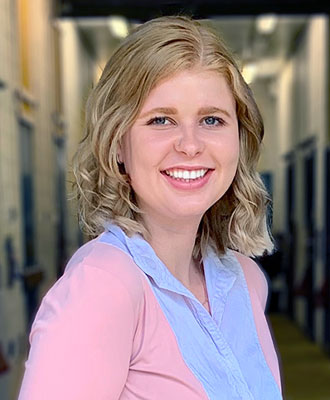 Mara Purnel
| Office Coordinator
Mara is a full-time office coordinator here at our practice. As an office coordinator, Mara is responsible for answering the phones and completing paperwork. She most enjoys her interactions with clients. She joined our team in March of 2021 with a Bachelor or Arts in Social Media Marketing & a Bachelor of Arts in Equine Business. She is also currently pursuing her master's in business administration. Mara has been working with horses all her life! Along with her passion for Social Media Marketing, she makes a great addition to the Running 'S' team.
At home, Mara has a chihuahua mix, Maple, who is a little under a year old. When not at the office, Mara enjoys spending quality time with her friends, hiking, and going to the gym.